Article
3G Partner Acumatica Writes the Book on Shipping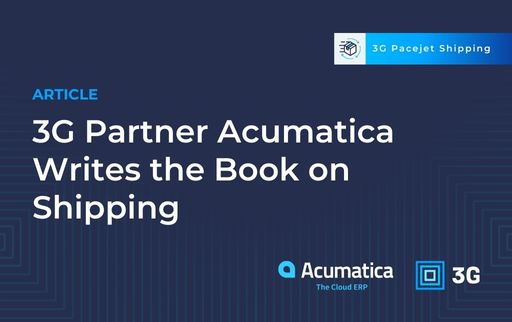 Manufacturers, distributors, and e-commerce retailers rely on teamwork to ship products: teams in the warehouse and teams in the cloud. In Acumatica's latest e-book, learn how its ERP software teams with 3G's shipping and transportation software to deliver and make their mutual customers their own customers' source of certainty.
Learn why Acumatica and 3G make an ideal team to help your own team manage:
The uncertainty facing all logistics operations
Complex processes within complex processes
Shipping as a core business function
Uncertainty. It's sometimes said that, when it comes to logistics, uncertainty is the only certainty. Fortunately, with that mindset, it's possible to confront (and mitigate) it with the right tools. As you'll see in the e-book, deploying Acumatica and 3G together is a great way to start. Acumatica can be configured to cover just about any business scenario, while 3G will help ensure the efficient movement of goods even when it's difficult to predict what will happen next.
Complexity. Shipping itself is a highly complex process, but it's also part of the even more complex process of order processing and management. This is where the integration between Acumatica and 3G (the only transportation or shipping software Fulfilled by Acumatica) shows its strength. Acumatica has exceptional capabilities when it comes to managing a diverse customer base and high order volumes. The ERP's interoperability with 3G means automatic data sharing and the ability to apply all of 3G's shipping functionality to each Acumatica order.
Differentiation. Acumatica breaks down shipping, and its relationship with the overall revenue generation process, to show how important an overall business function it has become. It's no longer "that uncle nobody ever talks about" but instead has become a way to differentiate on customer service and satisfaction. Even those selling highly commoditized products can compete on more than price when they demonstrate themselves as reliable partners, great teammates, and sources of certainty.
Want to learn more about the role shipping plays and how to simplify its complexity from start to finish? Read the e-book here or join us for our upcoming 3G and Acumatica webinar by registering here today!